Ya Gotta Keep Your Social Media Simple
Big announcement here, but I definitely gave it away in the title!! My studio is now available to rent by the hour! And it's just in time for the winter months, which… as you know… are a wild card here in Minneapolis. I mean I'm not saying that shooting outdoors in the winter months is impossible… but it's definitely less than ideal if you're not going for the "aggressive amounts of snow" vibe.
I'm all about community over competition (which is part of why I offer mentoring!) and making my studio available to rent for Minneapolis photographers feels like another huge step in fostering community.
Since I've made it available, I thought I'd answer some of the frequently asked questions I get about using the space!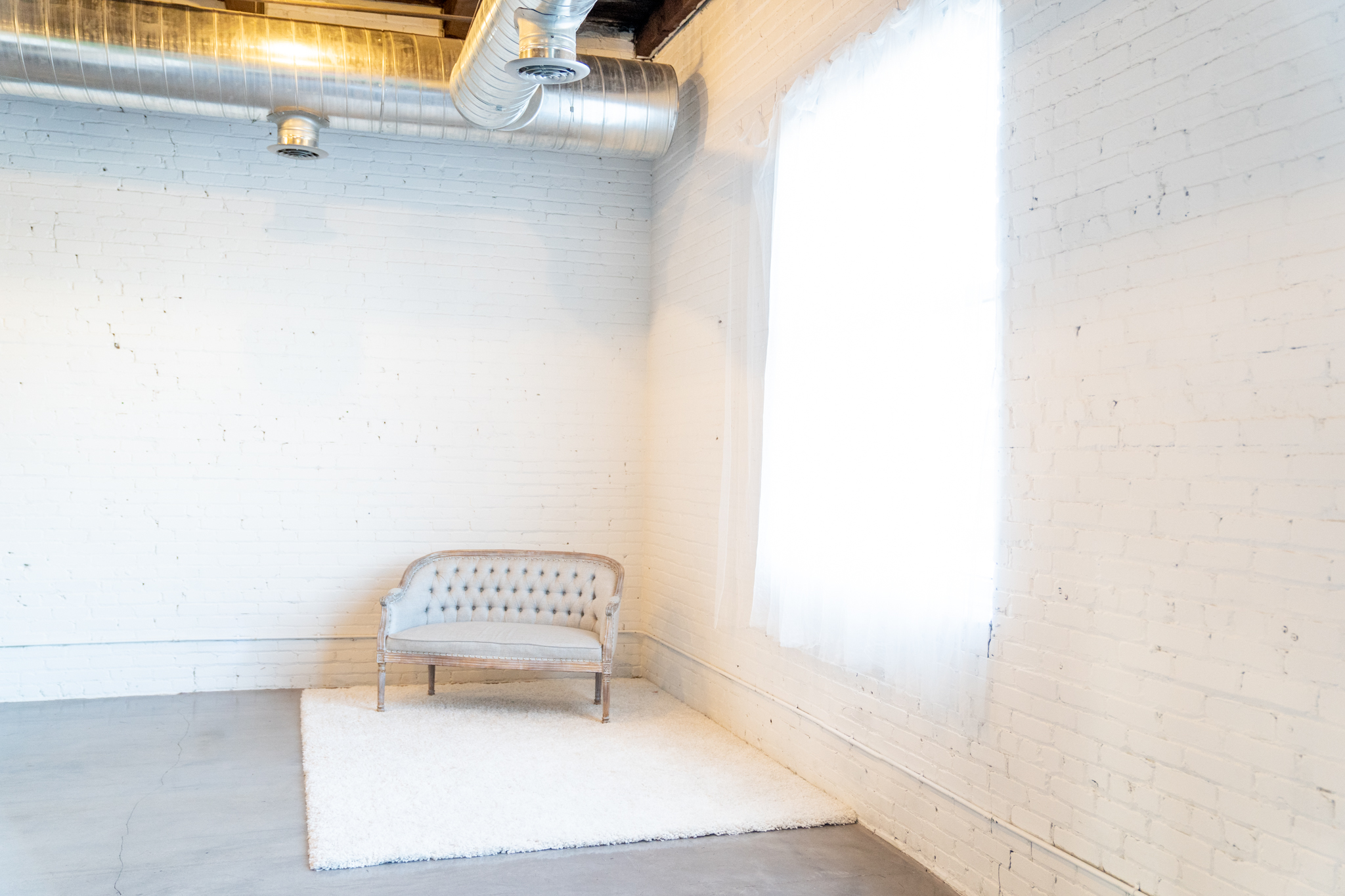 What style is the studio?
GREAT QUESTION. There's no real answer to this, because honestly, you can shoot in any style in my space. I know, that might sound a little wild, but I've been super intentional with how I've designed the studio.
One wall (really a whole corner) includes subtle, neutral white brick, paired with white flooring. If you're a neutral, or more rustic-style photographer, the space can be dressed up or kept minimal, without using bright colors!
If you're more into the bright and flashy, I have two mural walls available for use. They're vibrant, and bring a TON of color into imagery! And of course, if you want to create a set against those walls, they're completely available for that use too. They don't just have to be a backdrop!!
Do you have props I can use?
Hell yeah I do!! You can see a ton of them here. But you're also welcome to bring along your own props if you have them, just let me know ahead of time so that we can plan ahead.
The bed is movable, and can be used anywhere in the studio that you'd like to place it, along with all of the couches/chairs you see in the images below! The options are endless, and I'm adding to my prop collection very regularly. So as new props become available, they'll be added into the tools you can use when renting the studio.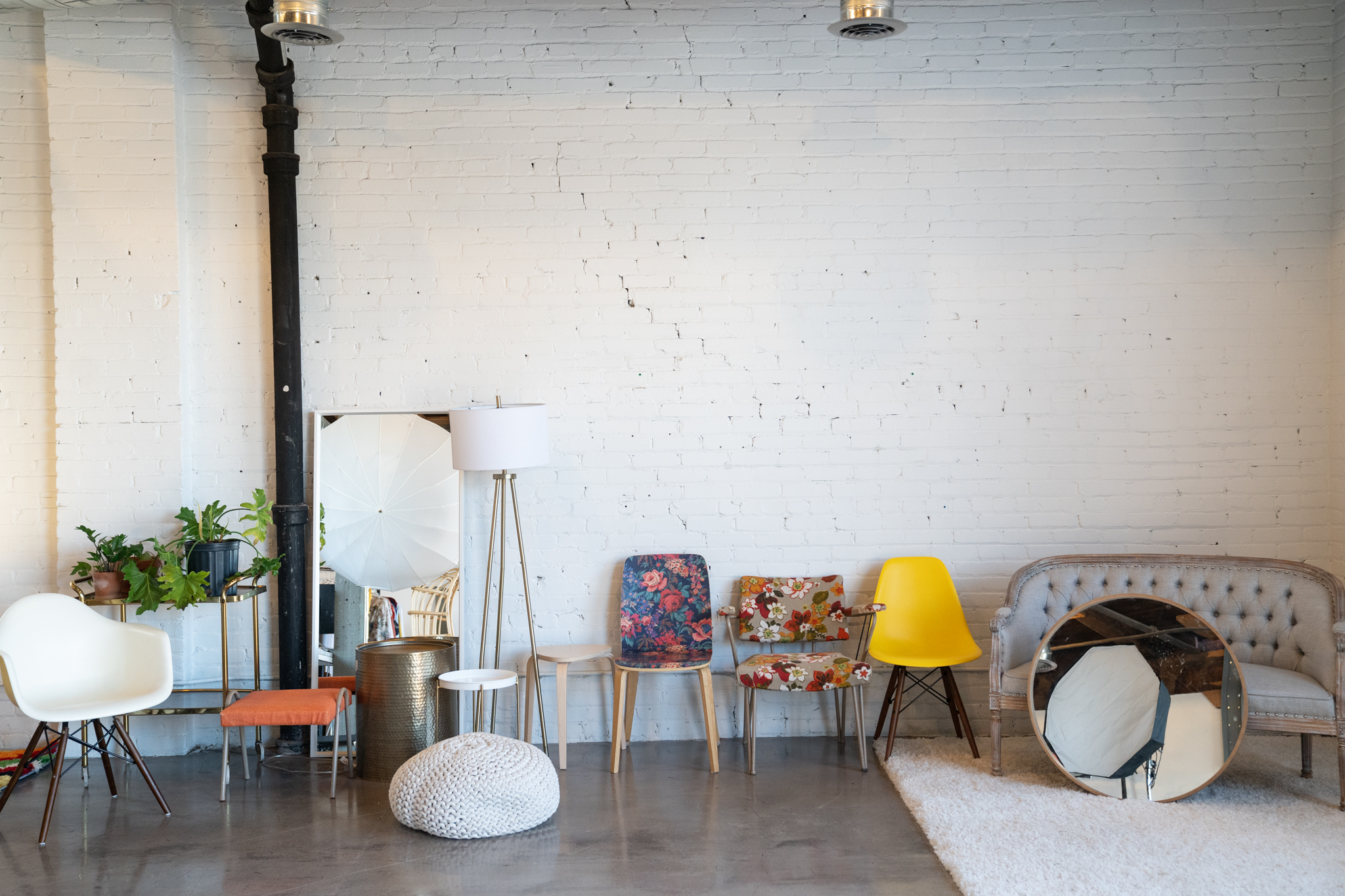 Do you offer discounted half-day or full-day pricing?
Right now, my pricing is hourly. However, I'm ALWAYS down to talk about how I can make this experience as simple as possible for you! So, if you're interested in a lengthier chunk of time, let me know, and we can see whether there's any wiggle room to get you a better rate for the time you need.
What if I want to do IPS?
I've GOT you!! If you want to do IPS, I've actually got a second monitor already set up so that you can easily have an IPS chat with your client post-session. And if you need a little bit of time between shooting and your IPS discussion, there are a ton of restaurants and/or coffee accessible just a quick walk from the studio. So your clients can pop out and have a tiny little walk, come back, and go through your IPS process!
I don't want to bring my lighting equipment – can I use yours?
When renting my Minneapolis studio, you get access to ALL of the equipment available on site. And that includes my lighting equipment! I've got reflectors, continuous lights, strobes – you name it. And of course, if you DO want to bring your own, you're also welcome to. When you rent my studio, what's mine is yours – but what's YOURS is also totally an option!!
I shoot newborn sessions, and this looks like a large space. Does it get cold?
Don't worry, it's heated!! The space is fitted for heat and A/C, meaning no matter which months of the year you're renting in, we'll be able to make sure the space is comfortable for you and your clients. Even if those clients are tiny humans!! If you're going to need the space a little warmer than average, make sure you let me know when you're booking, that way I can ensure that's accommodated for you.
What about parking?
When I picked this studio, it was super important to me that my clients were able to park on-site. I didn't want them to have to walk from elsewhere, especially if sessions were in the winter months! So, there is on-site parking available for you and your clients to use when renting!
My clients tend to bring family with them. What can they do while they wait?
Well, there's always the option of going to a cafe or restaurant in the area, if they don't want to stay for the session! Or, there's wifi, and you can always set up kiddos with something to watch, if they're not involved with the full session. There's plenty of space in the studio, so anyone who isn't needed directly for the session you're having can be out of the way!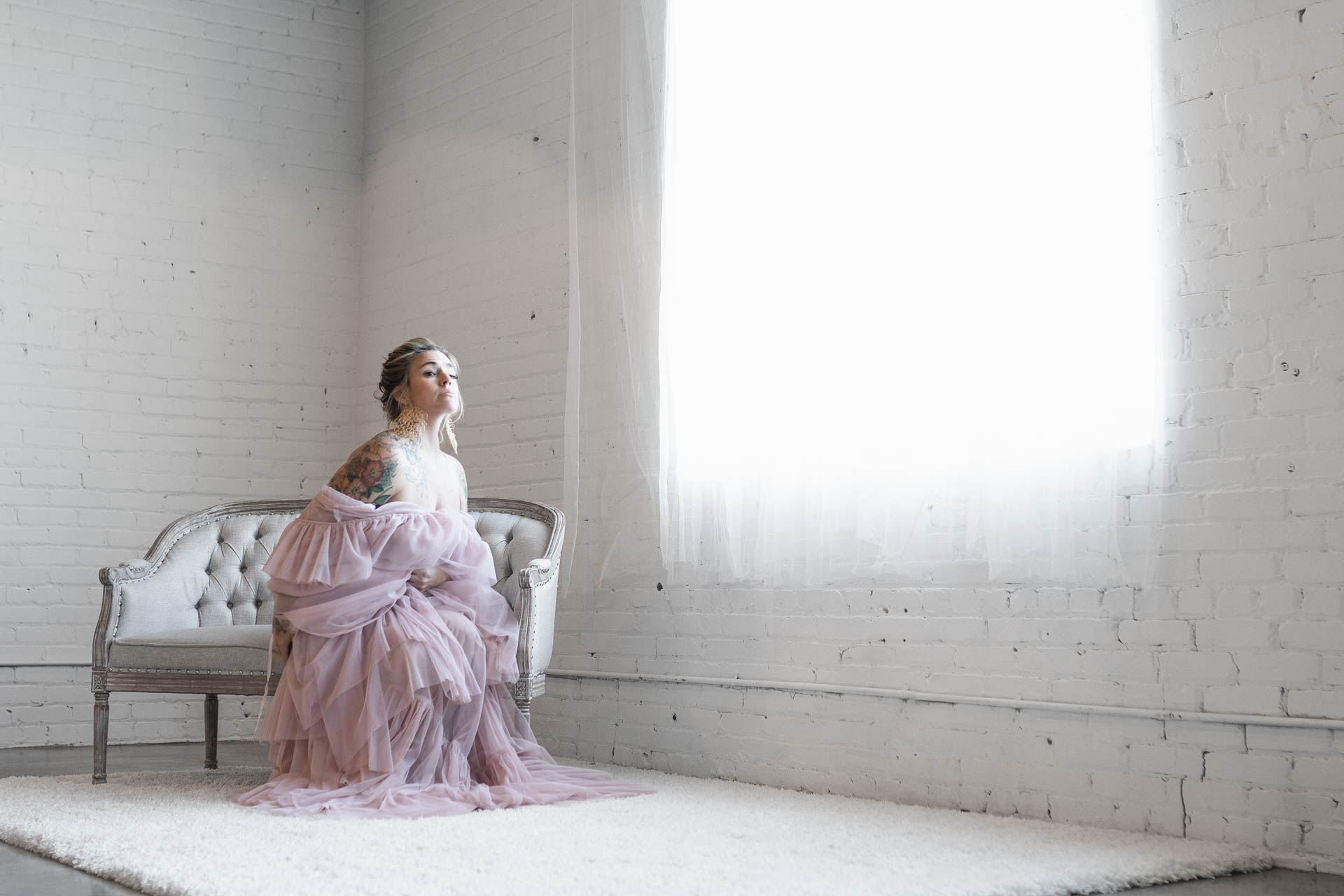 More questions about renting my Minneapolis photography studio?
These are just a few of the things I've been asked since opening my studio up for rental, but if you've got one that isn't on the list… just reach out and I'll get it answered! If you're ready to book, you can do the exact same thing, too. I make getting in contact with me super simple, and I respond to all inquiries within 24 hours. So you won't have to wait long to know whether you've got a "yes" or not!!