I know it's September, and you're probably just about getting ready to put out pumpkins. I get it. But… it's NEVER too early to talk about Christmas!! And I've got something BIG to share, even though it's early.
The Christmas Mini Sessions are BACK!!
I'm pretty obsessed with these sessions, because honestly they solve SO many problems. Lines at the mall? Not a problem. Paying out the nose for your kiddo to get two seconds on Santa's lap? Solves that one too. And don't get me started on how half of the time the images you get at the end are somehow blurry even though the camera is on a tripod and the flash is blinding everyone in the ENTIRETY of the building.
Everything about the Mall Santa experience is just… "ugh". It's noisy, both kids AND parents are overstimulated… and the screaming little one behind you gets yours started, and then… I think you know the rest.
And that's why I offer Christmas Mini Sessions! Instead of standing in line, and waiting and waiting, and dealing with the Mall at Christmastime… you can have heirloom quality photos, and a cool, calm, collected experience instead!!
Your Christmas Photos can be EASY This Year
If you know me, you know I'm all about simplicity – so the experience is simple. I take care of ALL of the details, as usual!
And if you happen to have a wait (because life is unpredictable, of course…) I've even got a solution for THAT! While you're waiting, your kiddos get a holiday craft to do, so they'll be kept busy and entertained. AKA, you don't have to occupy them. And as a Mom… It doesn't get better than that, right? Let's remember – In my life before I became a photographer I worked with kids and even taught preschool; so creating cool kid crafts is right up my alley!
Their time with Santa will be as calm as possible, because beforehand, they won't be standing and waiting (and standing and waiting) and listening to other kiddos getting riled up (and therefore getting riled up themselves).
There will also be super tasty holiday treats in the studio!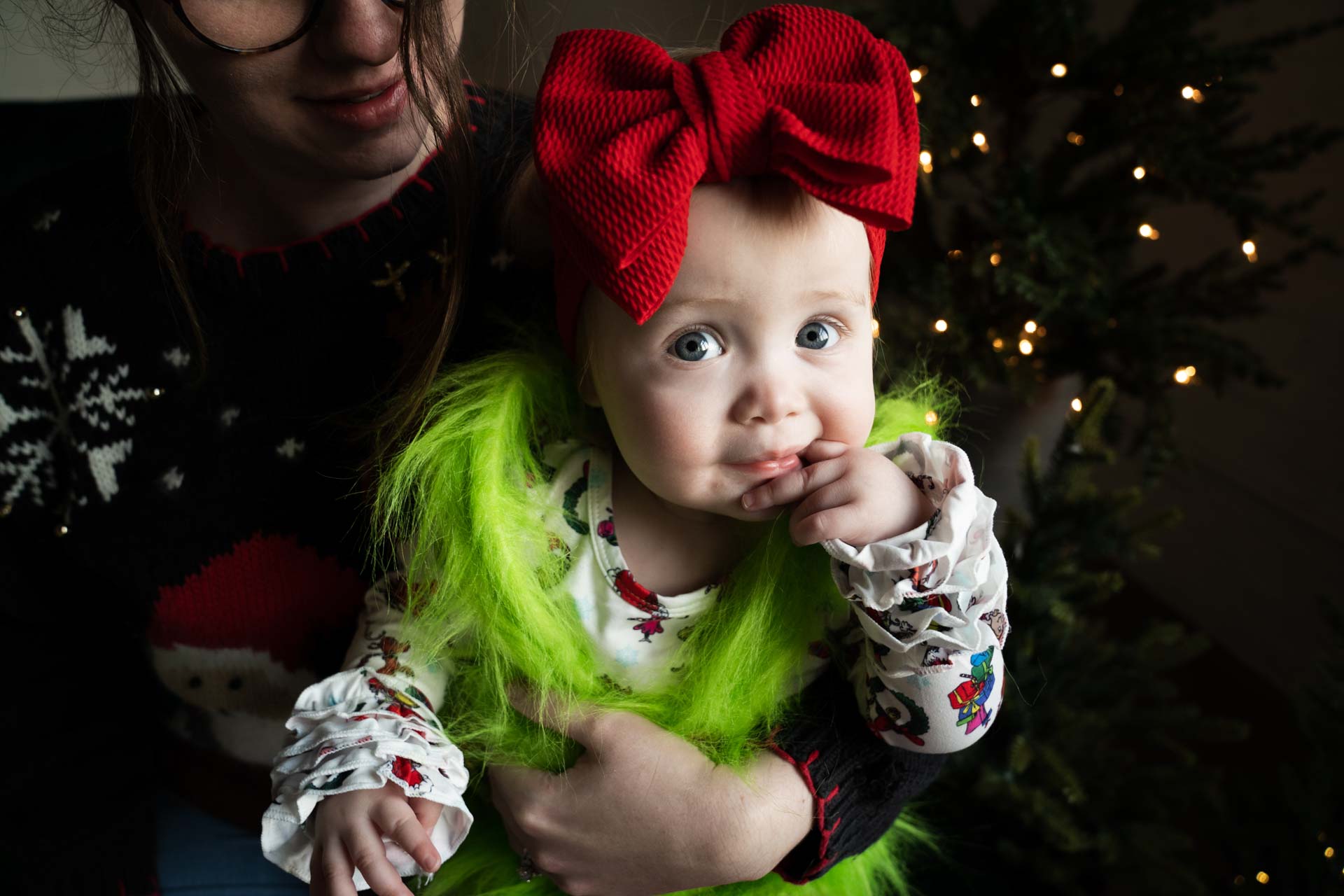 What about AFTER?
Well, there's even MORE problems to solve there! 
After your session, you'll get to pick out a photo with Santa from your online gallery, and you get access to a digital shop that makes it SO easy to turn your session into holiday gifts and heirlooms in like two clicks. (Yes, it REALLY is that easy!) There's ornaments, if you're really feeling the holiday vibes, or you can always go a bit more traditional, with simple, classic prints!
As a parent, I promise you'll enjoy seeing the magic unfold for your children – and you get the ability to participate in a little magic for yourself. So if you haven't booked – go check out the calendar and secure your (private, exclusive, EASY) appointment in the studio!