Lifestyle Newborn Photography is DIFFERENT
Primarily, there are two types of newborn photography. Lifestyle Newborn Photography, and Posed Studio Newborn Photography. They've got some similarities, so we'll start there! Both types involve your new baby, they can occur in a studio or in your home… and they're both photo sessions. See why we started with the similarities? Yeah. There's… there's not many others.
Lifestyle Newborn Photo Shoots are a different breed, and they're way less well-known than the more traditional posed studio newborn photo shoots! But in my opinion, they're just as magical. And even more importantly than that, they're even more EMOTIONAL. This is because we capture you, and your new baby in your own home, or, unposed in a staged studio space. Yes, that's right, wanting to have that unposed look and feel to your session doesn't always actually mean using your own home for your time with your photographer!
But whether you're having your session in your home or in the studio, there are a few things you need to think about before your session. And, there are some pretty specific things to expect!
Preparing Your Home for Lifestyle Newborn Photography
If you're going to have your session in your home… there's naturally going to be a bit of prep you've got to put in before we can have your session. Don't worry though, you don't have to frantically clean everything – just a couple of your favorite spaces that you want us to actually use. I always recommend a bedroom and a living space. I know that's not always ideal from a cleaning perspective, because living spaces are… well… lived in. But I promise it'll be in use for as short a time as possible!
If there are specific things in your home that you're going to want modified in the final photo package, like large stains on carpet, for example, make sure you tell your photographer (AKA me? Is that too bold?) when you're scheduling your shoot. It's going to be much easier to talk about those kinds of photo edits beforehand than it is to talk about them the day of, and surprise everyone involved! That'll also mean that if there needs to be an added fee on your session quote for outsourcing editing, for example, then your photographer can handle that up front, and everyone stays on the same page.
Choosing What to Wear
Selecting what you and your little one(s) are going to wear for your lifestyle newborn photo shoot is a feat in and of itself, I know. Honestly getting their older siblings to wear clothes at all is probably a struggle some days, been there… done that.
When you're selecting outfits, there are two basic approaches, and neither one is more "right". Approach one is to choose clothes that are magical and special and matchy-matchy because you're having photos done. This is a great approach if you're trying to match your decor, or you want your lifestyle newborn photos to still have a more formal feel to them. Approach two is a bit more… chaotic. This one is essentially to come as you are! If siblings are wearing polka-dots and stripes because the four-year-old dressed herself that morning… so be it. That's approach two.
And honestly, they're both incredibly appealing for their own reasons! Option one feels more formal. More staged, even though it's in your own home. Option two has childhood charm, and creates images that are classic in their own way.
If you can't choose… don't worry! I'm here to help. I offer wardrobe consultation for this very reason! I can help you weed down your own wardrobe to clothes that match, without you even needing a trip to Target. (Although let's all be honest… ANY excuse to go to Target is a good idea!)
Make Sure the Kiddos are Ready!
Believe it or not, newborn sessions usually go best when baby is tired. So my biggest recommendation before the session? If you can… delay their nap! I know it goes against every instinct in your body, and we will absolutely try to schedule your session for a time when the little one will already be sleepy and cozy. But the session as a whole will go best if they're super tired, so if that means keeping them awake for a tiny bit (but still hitting the sweet spot, since we ALL know what hell breaks loose when a baby is OVER tired…) then that's what it means!
With older siblings, if older siblings will be involved, make sure that they know what's going on. I'm basically the kiddo whisperer, it's essentially my superpower. But things will go more smoothly for everyone involved if they're aware that there is going to be a stranger in the house, and that the stranger is pretty cool. Giving them a heads up as to what the day holds will make sure that they've got some time to mentally prepare!
If the kiddo(s) have a favorite topic (dinosaurs? barbie?) try to brief your photographer about that ahead of time. Sometimes being able to discuss their favorite thing can help them open up for the camera!
Getting Comfortable with the Camera
"Just be you" is what it comes down to… but I know that's not always easy!
Lifestyle Newborn Photography includes the whole family. Well, at least the whole household. It's your baby, and their siblings (where applicable) but it also includes you, their parents! We're going to get photos of you talking to the kids, generally hanging out… goofing off… And as shy as some little ones can be, usually, it's actually the parents who are camera shy!
My biggest recommendation here, is to remember two things. These photos of you all together aren't necessarily for you – they're for your kids too. You take so many pictures of them, I mean, we're all walking around with cameras in our hands for most of the day every day. I know I personally am, and I'm sure you are too. But those pictures of them making weird faces, and smearing spaghetti everywhere… those photos don't have YOU in them. And when they're older, they're going to want these photos. Photos of you ALL. The second thing I want you to remember, is anyone who would want to be all judgmental and weird about how you look in photos with your kids? They're not going to be looking at you. They're going to be looking at your kids. They're adorable little attention hogs. Let them soak up the limelight, and allow you to feel more comfortable knowing… no one is looking at you.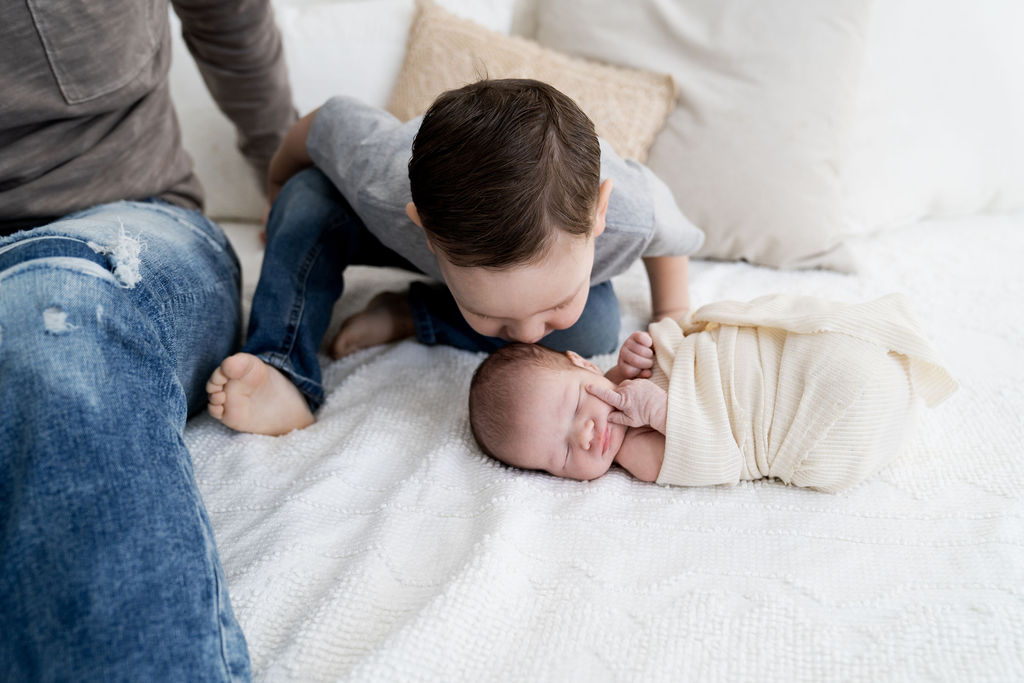 Ask Questions!
When I say I love answering questions, I actually mean it!
The final thing you need to think about ahead of your Lifestyle Newborn Photoshoot, is asking questions! If your photographer has an FAQ page, read it. Check the information on their session page. Reach out to them! If you're uncertain about something – about ANYthing, we want to make sure that you feel completely comfortable before your session. Myself included. I love getting questions from parents and families, and yours are no exception! If you've got a question about a lifestyle newborn session, just reach out. I can't wait to hear from you!